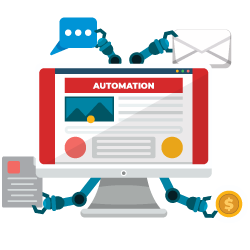 End To End Court Automation
Automate case filing, eliminating bottlenecks that hamper speed, efficiency, accuracy and high productivity.
Benefits:
E-filing

You can file cases electronically from the comfort of your office or home.

Easily upload and attach PDF copies of documents you wish to file
Do a self-assessment of your costs based on the schedule of fees as provided in the Rules of Court
Use the integrated e-payment module to make all payments of court fees to the designated official accounts

E-registry

Registry staff easily receive and review all cases filed through the electronic filing system after confirmation of payment. Cases approved as properly filed are electronically presented to the Chief Judge for assignment. When electronically assigned by the Chief Judge, these cases are transferred to the electronic docket of the designated courts for adjudication.
E-service

Cases filed electronically, after processing and approval in the e-Registry are forwarded electronically to the Deputy Sheriff's office for service by the Bailiffs. Cases filed with the email addresses and phone numbers of the defendants can be served electronically by sending emails to the defendants attaching the filed processes.
E-courts

The e-Court system enable the honourable Judges gain access to the electronic case files of cases assigned to their courts. Directions by the Court as to court sitting dates and time including notice of adjournments are easily forwarded to litigants/counsel from time to time.
Affidavits

Eliminate fake affidavits. Members of the public and lawyers can visit the judiciary website to create official affidavits that will carry unique identification numbers.